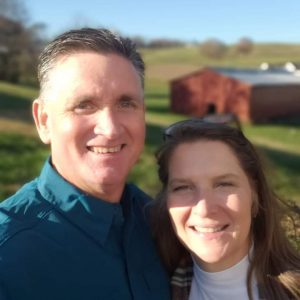 Born in Athens, Georgia, and raised in Houston, Texas (he got here as fast as he could), Grage Deese is the eldest of three boys.  His father was a master carpenter and instilled in Grage his love for carpentry work and home remodeling.
Tricia was born in Baytown, Texas and was the youngest of 3 girls.  Her father worked for Dow Chemical for 35 years and her mother has an entrepreneurial spirit.  This gave Tricia the best of both worlds: commitment and a business mind.
After having worked for Houston Habitat for Humanity for several years as a lead crew superintendent, Grage realized that his heartfelt dream of owning his own business was a very tangible possibility.  So, he launched out on his own in 2002 and Can-Do-Handyman was born.
In October of 2011 Grage and Tricia married and Can-Do Handyman LLC along with Grage moved to Temple and launched the company in the Central Texas.  As the company began to thrive, the focus of the business turned to the commercial services and has grown in this area in a way that they would have never imagined. "We still have our residential customers, but we do focus on the commercial customer base that we have become to know and work closely with", states Tricia, "We had a vision for the company to service most of the State of Texas as a commercial facility services company and that has come to pass."
Says Grage, "We give credit where credit is due and that is to God who honors His word by giving great success to anything, we put our hands on that is committed to Him. He has granted our company abundant favor and success."
In all your ways acknowledge Him and He will establish your path. Proverbs 3:5-6.
Grage and Tricia both love spending time with family and their grand-children.  They have a loving blended family.  Grage has 4 children (3 of which are triplets) and Tricia has 3 along with 8 grandchildren.  They have a common passion for drag racing and sponsor several local drivers and going to tracks to watch racing is a favorite pass time.  They also love being outdoors; spending time in the garden and greenhouse.